What Nationwide Courier Service Are Doing?
If you are looking for quality courier services that you can rely on, you have come to the right place. Nationwide Courier Service offers direct same-day delivery and courier services to businesses large and small anywhere in the UK. We will get your consignment to its place of delivery, safely and extra-fast. With over 9 years' experience in the industry, we have learned that the way to satisfy our repeat customers is to preform every activity to the highest quality from pickup to drop off.
We have access to over 2,500 vehicles and drivers. We partner with a vast number of quality couriers from all over the UK, so we can pickup your consignment within 1 hour of ordering. we will make sure your consignment is delivered safe and sound the same day.
Nationwide Courier Services unique selling point is the fact that we can get your consignment to point of delivery on the same day it is dispatched. This is a service we offer across the whole of the UK. Reliability and speed must go hand in hand. So, all our couriers are reliable and can handle all forms of consignments. For instance, as well as letters and confidential files we may be asked to deliver fragile or vulnerable parcels. You can rest assured that whenever there is a need for careful handling our highly skilled courier services will play their part.
We also can collect your parcel within 1 hour of purchase so it can reach its final destination as quickly as possible. And Just one more advantage we operate 24 hours a day, 7 days a week, 365 days a year, so we are there whenever you need us.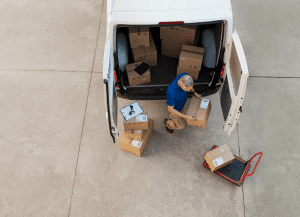 Some businesses will need Same Day Dispatch on a regular basis – others will need that one-off urgent delivery. It all keeps the supply chain moving smoothly and enhances a business's communication and distribution services. There are no boundaries as to who we can work with. Nationwide Courier Service is a specialist same-day and direct Transport Company based in the East Midlands.
We work closely with all our customers taking note of their delivery requirements before offering them a bespoke service that delivers their consignments in the most economical and cost-effective way for the customer. We ensure that all items are delivered safe and secure within a set deadline.
We work in partnership with NAVMAN wireless using the latest technology which shows the location of every vehicle, which gives us the ability to not only track your consignments but also send the closest vehicle to the collection point helping us maintain our collection within 1 hour guarantee. This gives our customers the peace of mind that their urgent consignments are being collected in the quickest, safest, and most economical way possible and providing a more accurate delivery time.
We have a range of different vehicles giving us the diversity to work with several different sectors from Independent artists and galleries to steel fabricators and electrical distributors, pharmaceutical and many more.
Customer experience is crucial for every courier service, a courier service that goes the extra mile for you and your customer can lead to repeat sales and usage of your services. A friendly attitude, and willingness to solve issues promptly are essential. Remember, the courier service you choose represents your company. You want exceptional customer service to be a priority for them, as well as the expected great delivery service. Trust between partners is the only way for long-term relationships to thrive in the parcel delivery business. That means being upfront with terms and agreements and no hidden fees. Delivering parcels in one piece.
Nobody wants to pay through the nose for courier service. You often get what you pay for, so the cheapest courier services aren't always the best deal. You want a delivery company that offers you the courier service you need for your business at a fair price.
So, What Makes A Quality Courier Service?
Reliability
High Quality
Safety
Speed
Experience
Communication – Customer Service
Efficiency
Fair Priced
Convenience
Honesty
Need A Quote?